John Cena, the multi-time WWE champion, has finally found the keeper of his heart. In the last year, this globally popular wrestler has tied the knot with Shay Shariatzadeh, a product manager. Their love story looks just like a modern fairytale with a chance meeting that ended up binding the two with a marital vow. While John, who is 42 at the moment, has married Shay, who is just 34, their love seems stronger than you can imagine.
Interestingly, the couple has kept their relationship private except for a few red carpet appearances. But who is Shay Shariatzadeh, John Cena's wife? Well, we are here to offer you all the details about Shay and what she is doing now! So read on to know more!
Who is Shay Shariatzadeh?
Shay Shariatzadeh, John Cena's wife, is a Canadian. She was born in Iran, and her family moved to Canada for better career prospects. Shay does not belong to the entertainment sector and prefers to lead a simple life.
This Iranian beauty is a Product Manager at Sonatype. She completed her bachelor's in Electronics Engineering at the University of British Columbia in 2013. However, nothing is known about her high school. She belongs to a simple Iranian family that practices Islam and has a brother.
Shay once proclaimed that she got her inspiration of becoming an engineer from her brother. She said, "My brother studied engineering in school, and I remember one day he came home with a project and it was an autonomous car — and that was it I decided to study Engineering.".
Her linkedIn bio also gives insight into her career and intelligence streak. It says, "I have always enjoyed math and physics,"
Being a hard-working girl, Shay Shariatzadeh started working at the age of 18. Her first job was as a Guess and La Vie En Rose sales executive. She also worked in Avigilon, a sister company of Motorola Solutions, based in Vancouver. On the Avigilon official website, her profile mentions, "Today, I take pride working in the video surveillance industry because our products help keep people and their assets safe, and that's my little contribution to our world."
During the first phase of her career as an engineer, she came under her mentor and learned and honed her professional skills. As per her linkedIn bio, she is currently contributing actively to the engineering sector and mentoring upcoming and new professionals.
Before her relationship with John, Shay appeared on the product review of Avgilion product unboxing in 2017. As a designer and production manager, she looked confident while displaying the features of teh thermal camera!
Per the reports of Life & Style, Shay Shariatzadeh is an independent woman, which probably caught John's eye. The source quoted, "In John's eyes, Shay is the whole package, She's beautiful, intelligent, kind, independent, and family-oriented, and there's rarely any drama between them."
The source also said, "Shay isn't after his money, She's not that kind of girl and loves him for who he is."
How did Shay Shariatzadeh meet John Cena?
Well, their love story is a collision between two different worlds. So, how did John Cena meet Shay Shariatzadeh? Their first meeting was on a set in early 2019. In Vancouver, John was shooting when he stumbled upon Shay. She was dining out with her friends at the same restaurant. For John, it was love at first sight.
\In his interview with Entertainment Tonight, he candidly mused about their first meeting by saying, "There was one woman I was looking at and I couldn't take my eyes off her… that's when it started,"
The progress of their love story
John took the first leap and decided to pursue his lady love for a date. It is safe to assume that Shay said yes to the proposal. The couple probably started dating in 2019. They were first spotted in public as a couple in March 2019. At that time, John was filming Playing with Fire in Vancouver, the native city of Shay.
ET online first reported John holding hands with a "Mystery woman", who was in reality Shay Shariatzadeh.
The couple was then spotted enjoying a romantic dinner date in an uptown restaurant. They dined for nearly four hours together and left unnoticed.
The couple initially took time to get to know each other to start a stable relationship. Sources claim they often had long dinners and discussions to start bonding.
The couple then started a serious relationship. Soon, TMZSports.com spotted Shay and John kissing at an airport on March 27, 2019. At that time, John was shooting in San Diego, and Shay flew there to join her boyfriend.
As an actor/wrestler, John often was out on overseas projects. So, their long-distance relationship started after this meeting. But, the distance made them stronger.
Being a true gentleman and a dedicated partner, John came to see off Shay at the airport and kissed her goodbye. Sources reported that Shay Shariatzadeh finally decided to get a remote job to ensure she could travel with John without being apart.
Shay made her formal debut as the partner of John Cena in the premiere of his movie Playing with fire at AMC Lincoln Square Theater in New York In October 2019.
In an interview with ET journalist Nischelle Turner, John openly announced their relationship. First, he said, "It's a wonderful day for a movie premiere and I got a beautiful date, "Then he proceeded to tell how he met his girlfriend on the set of this movie. Finally, the actor added, "What's truly special about this one is that, no matter what projects I'm involved in in the future, this one will always have a special meaning because I got to film a special project and meet someone special," Cena expressed.
But, at the time, he did not divulge more details about their relationship status or marriage date.
The couple was later seen on a date in Beverely hills, holding hands again.
The couple was again spotted at the Premier of Doolittle in January 2020. People reported that John Cena and Shay posed for pictures and shared a sweet kiss. The actor referred to her as "family" and said he was happy to have her there as his mental support. "It's a family movie and it's a wonderful occasion to celebrate with family," he said.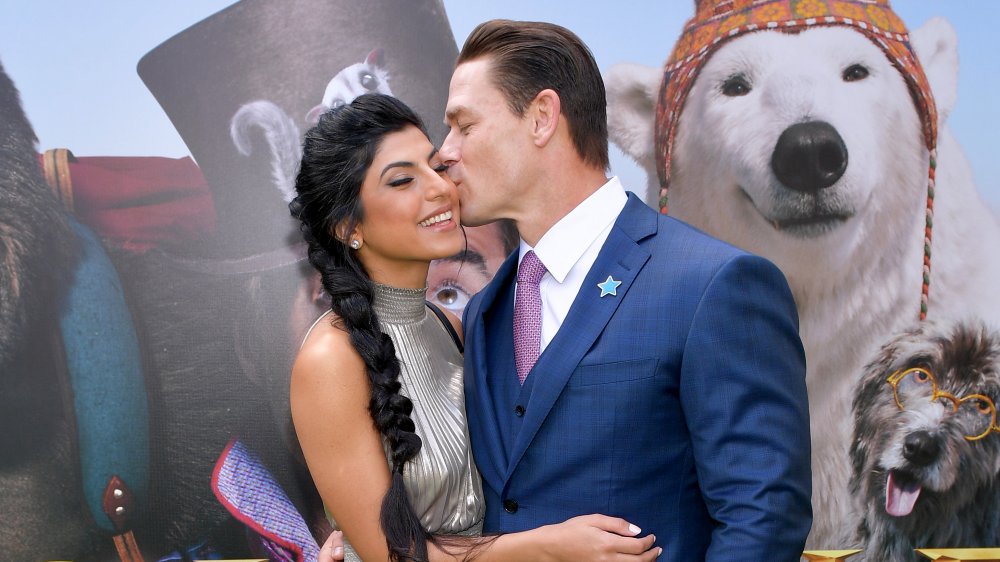 Their marriage
The couple dated for nearly two and a half years before saying their "vow" to remain together. In later 2020, the couple tied the knot. Both Cena and Shay preferred an intimate wedding with their family members and friends in Tampa Bay. The wedding ceremony was simple and was held at an attorney's office in Tampa.
On October 14, 2020, PWInsider.com first reported that Shay Shariatzadeh became the wife of John Cena. But, as it seems, the two married on October 12, two days before the report.
Three days before the Wedding, John Cena had an emotional Twitter update related to love and commitment. In his post, he said, "Love involves constant effort. When you are truly ready to let love in and give to love all it needs to flourish, I feel there is no greater, more rewarding connection."
After marriage, the couple appeared on the red carpet premiere of the show "Peacemaker: in August 2021. At the premier, John was spotted in his peacemaker suit while Shay wore a red and blue dress, matching the colour scheme of her husband's costume!
The couple quarantined together after marriage and are rumoured to do everything together like a regular couple. They often work out regularly indoors and outdoors and use that routine as a bonding time. We are really happy for John and Shay!
As it seems, the couple is on a plan for parenthood but is not in a hurry. In his interview with Drew Barrymore on "The Drew Barrymore Show ", John said that his fast career as an actor was a hindrance to embracing parenthood. He said it was hard to balance his time, and he wanted to be there with his wife for each step of parenthood.
John added, "It's hard work to be the best partner and husband I can be to my loving wife. It's hard to keep connections with those in my life that I love. And it's also hard to put in an honest day's work."
What is Shay doing at this moment?
Despite being the wife of a high-profile celebrity like John Cena, Shay Shariatzadeh still prefers to maintain her low-key profile. She is not often spotted in public and prefers to maintain a low-key image. Therefore, it is safe to assume that Shay is working in her previous position as an engineer while enjoying their marital bliss!